How do I filter my maintenance requests?
In order to filter your maintenance requests, go to the "Maintenance" section from the left side menu of your dashboard. You will see three tabs, "Requests", "Requests board'' and "Recurring".


Choose the "Requests" tab to learn more.
Please note! The Requests board is available from the Pro subscription plan.

The "Display" option allows you to view maintenance requests in the following statuses:
All
New
In progress
In review
Resolved
Archived
Cancelled
New maintenance requests are displayed by default on the page.
The "Search" option allows you to search for maintenance requests by:
Maintenance request title
Maintenance request number(#)
Property name
There are two possible ways to view the list of maintenance requests:
List View - allows previewing the list of requests with the general information included: number, category/subcategory, status, assignee, a property associated, and priority. By clicking on the View button, you'll be able to see the detailed description of a certain request. And from the three dots action menu - easily edit, request approval (in a PM mode), make recurring, print or delete the request. The swimlane option divides the requests per property and lets you view the requests in a more convenient, ordered way.
Detail View - gives the possibility to view the maintenance request in a detailed perspective right away, change its status, etc. by selecting the desired one from the left-side column.


The "Filter" option provides a more advanced way of searching maintenance requests.
You can filter requests by:
Property & Units (property, unit)
Priority (low, normal, high, critical)
Assignee (unassigned, do it myself, service professional, team member)
Shared Request (not shared, shared)
Client (no tenant, tenant 1, tenant 2, tenant 3, etc.)
Category & Subcategory (category 1, category 2, subcategory 3, etc.)
Equipment status (linked, not linked)
Request schedule - sorts only active & future recurring - (one time, recurring)
Order (by date initiated, by due date)
Owner approval status - in Property Manager Mode only - (not requested, pending, approved, canceled, declined)
Maintenance fee status - in Property Manager Mode only - (not invoiced, invoiced)
Service Pro near you (requested, expired, canceled)
Please note!
The Property Manager mode is available starting from our Pro subscription plan.
Select the Request Board to learn more:
Request Board is an advanced tool for managing requests in the most convenient way. Here the requests of all available statuses are located in separate columns, and you may easily change the status of a certain request by dragging and dropping to the needed column. From the Request Board, you may also easily apply filters and find the needed request in a more advanced way:

Switch to the "Recurring" tab to learn more: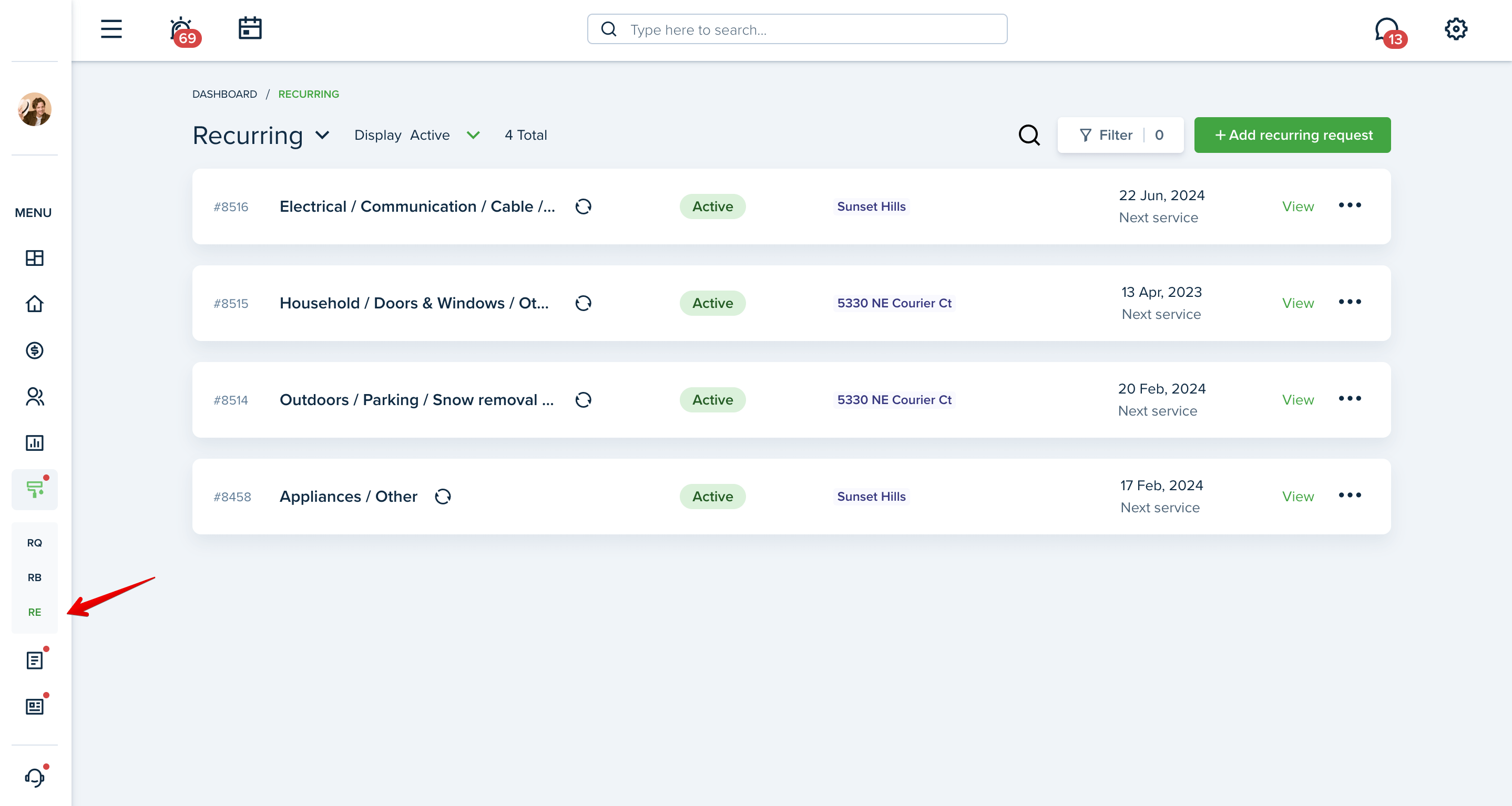 The Recurring section allows users to schedule maintenance requests, add details, and track the related maintenance requests to make sure everything will be managed right on time.
The "Display" option allows you to search by:
All
Active (default)
Future
Ended


The "Filter" option provides a more advanced way of searching for recurring maintenance requests.
You can filter them by:
Property & Units (property, unit)
Schedule (weekly, every two weeks, monthly, quarterly, semi-annually, annually)
Category & Subcategory (category 1, category 2, subcategory 3, etc.)
Equipment status (linked, not linked)
Last updated:
Nov. 27, 2023