How do I end a lease?
If you decide to move out a tenant, stop all recurring lease transactions, and return or apply the deposit toward unpaid invoices, you need to end the lease.

To end the lease, go to Contacts in the left side menu of your dashboard. Choose the desired tenant and click on the Dots button and select View Lease from the drop-down list. Then click on the More Details button (if there is more than one property):
This page will display all the leases grouped by address. View the active lease and click its menu. Then select the End Lease option from the Dots menu:
Now you will see a list of unpaid or partially paid invoices. Check the box next to the invoices you would like to manually record as paid by the tenant. Press the "Record as Paid" button. You can remove the selected invoices as well.


If you want to apply the deposit toward unpaid invoices, activate the toggle button "Apply deposit," enter the available deposit from the drop-down menu, and enter the amount you'd like to apply.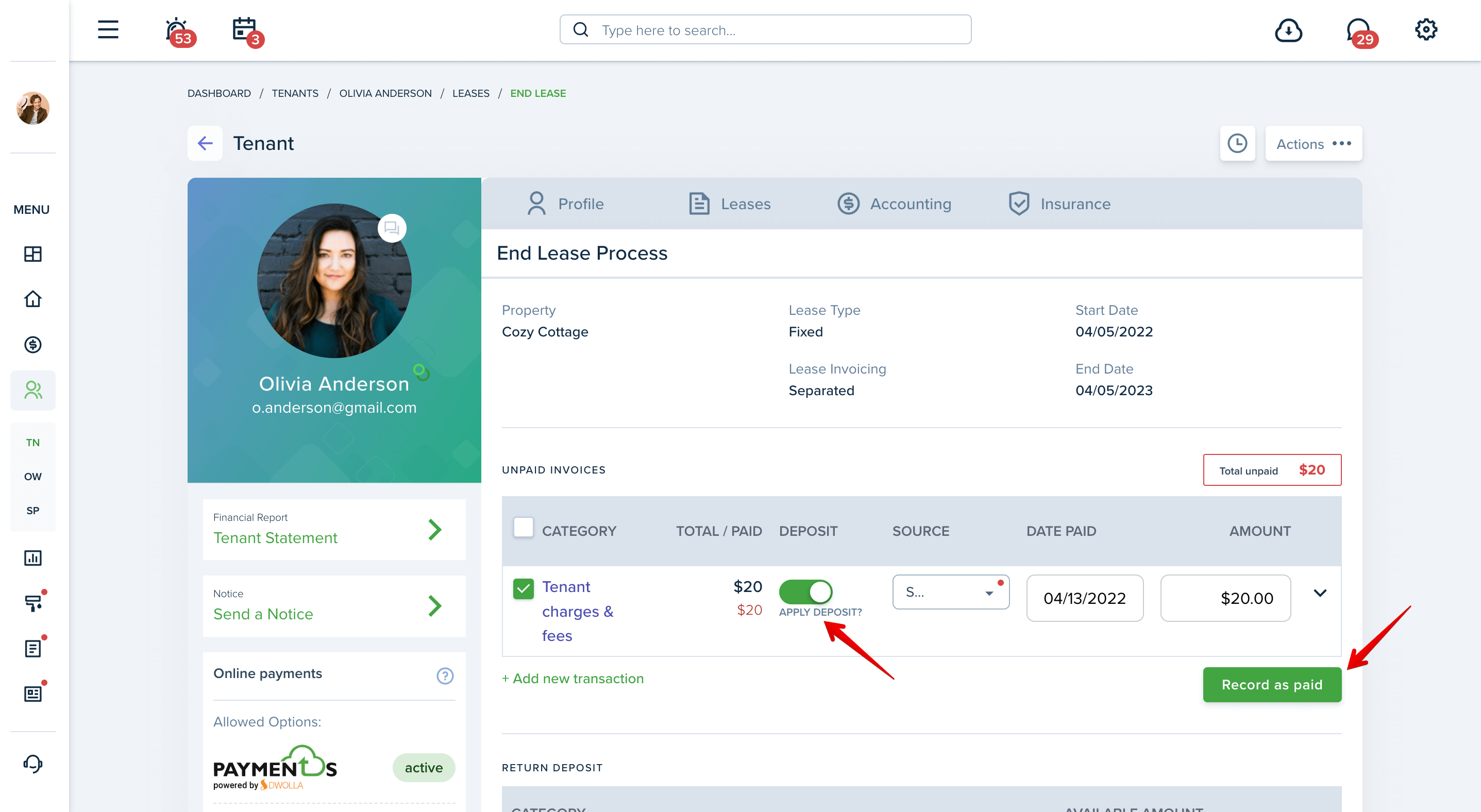 If you want to return the deposit back to the tenant(s), you can return the deposit below. Click "Return Deposit". If your tenant has enabled the online payment option, you can return the deposit online. Don't forget to click the related button when you do each action:
When you have completed the tenant's accounting, you can add a note for the future. Enter the lease end date (if it was in the past) and confirm the lease end by clicking the "End the Lease" button.
All the lease recurring invoices will stop immediately, and none will be posted in the future. The lease status will be "ended." You can now create a new lease or renew the lease:
Also, you can end a lease directly from the Contacts page:
Last updated:
Apr. 13, 2022