How do I verify my account?
We request verification in order to decrease fraud and create a safe place for our verified users, leaving no doubt that we can trust everyone is who they say they are.
Note: There is a one-time non-refundable setup fee of $1.99 (except landlords/property managers on paid subscription).
You can use your account without verifying your identity, but before you can set up online payments and list properties on our partners' sites, you will need to provide verification of your identity to help us prevent fraud and create a trustworthy environment for potential clients and other users.
To verify your account and get the Verification Shield on your listings, follow these steps.
Go to the main "Settings" menu and select the Security option from the Account Settings section. Here click the "Verify Account" button:
1. ID Verification
On this step, you can either "Upload photo" or "Take a photo." If you select the "Take photo" option, the mask with human contour appears which will allow you to take the right photo. After the photo has been taken, you can also "re-take" it if needed.
Whether you take or upload a photo, make sure the following information is clear and visible: name, date of birth, expiration date, and document number.
The following documents can be submitted for verification purposes:
Passport
Driver's license
Government-issued ID card
Press the "Continue" button to move on to the next step.
Please note! "Upload photo" is available on desktop only.
2. Phone Verification
There are two types of phone verification: "Mobile" and "Direct Line."
With the Mobile verification, enter your mobile number and you will receive a text message with an authentication code valid for 5 minutes. Please check your messages and copy & paste the code in the indicated field.
If you do not receive the code, click the "Resend Code" button. Make sure you are entering the correct mobile number.
By choosing the Direct Line type, enter a landline number and you will receive an automatic phone call with the code delivered via text-to-speech.
Choose the option that is best for you and press "Continue":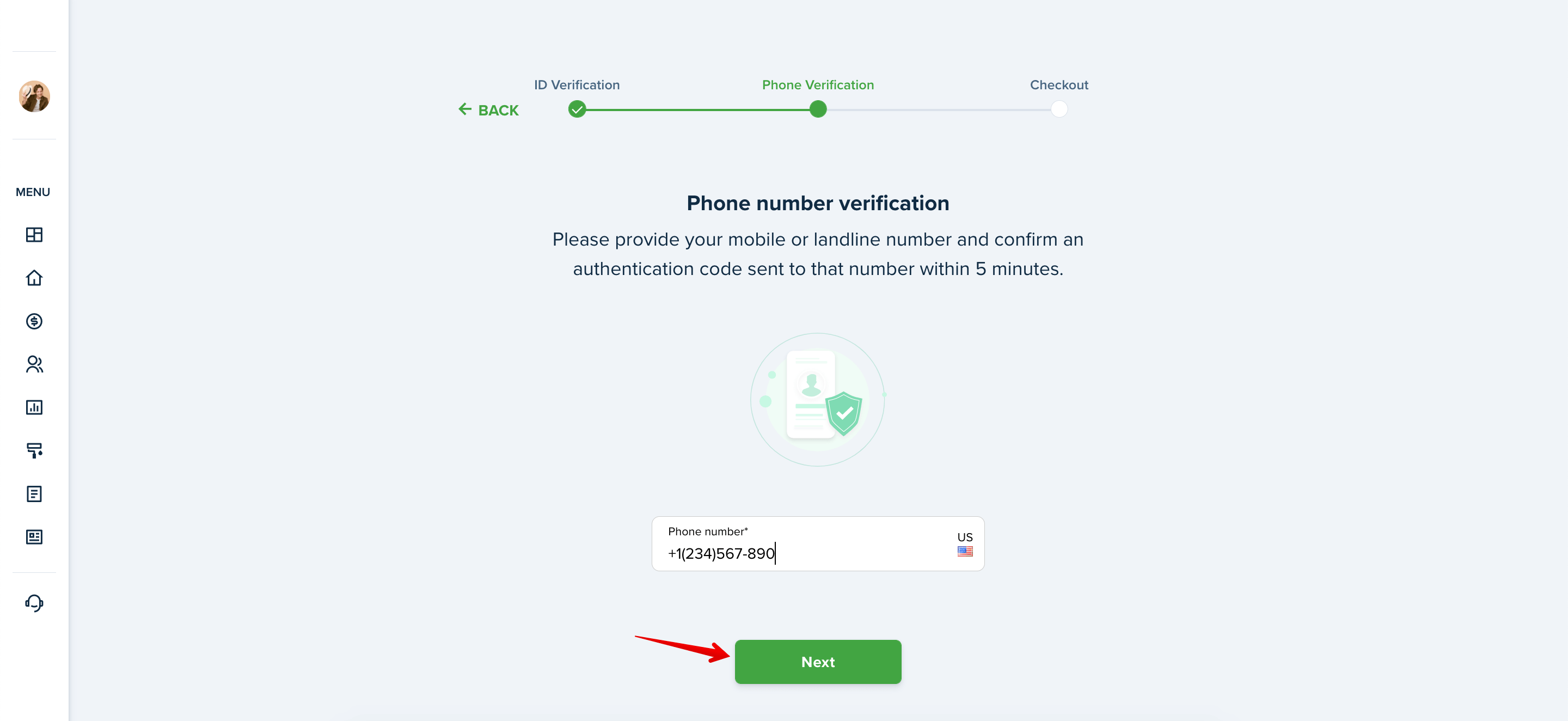 Please note!
We can't guarantee that Vonage virtual numbers will be reached from non-domestic phone numbers, or by sending an outbound message through Vonage SMS API's. In fact, sending outbound messages to a Virtual Number using the Vonage API may result in the message being Rejected or Undelivered. This is why we strongly recommend using the landline or mobile phone number option instead of the virtual one to complete our Trust & Verification step.
3. Credit Card Verification
Enter Cardholder name, Card number, Expiration date, CVV as well as a physical address where the card was issued, checkmark the disclaimer, and click "Request Verification."
If the Credit Card was saved in the system before verification, you can use saved card information:
Please note! If you are already on a paid subscription plan, you won't see the credit card verification step.
That's it! You can see the status of your verification request by clicking on View Request or going back to your dashboard.
You'll be verified as soon as our Manager checks your information. It usually takes a few hours (Our working hours: Monday- Friday from 8:00 a.m. to 5:00 p.m. UTC, except for holidays).
You will receive feed and email notifications once the account is verified.

Please note! The verification is valid for 2 years.
Last updated:
Feb. 24, 2023