How do I set up an individual Online Payments account?
Before you set up online payments, you will need to go through the verification process. If your account is verified, you can go straight to the online payments setting and set up Online Payments account. There are two types of accounts:
Individual for personal and sole proprietorship;
Business for companies, LLCs, and partnerships.
Please note!
You are able to set up Online Payments account only when you are connected with your property manager and their Online Payments account is verified.
Please note!
Online Payments account is available in the US only.
INDIVIDUAL ACCOUNT
An individual account must be activated by an executive, senior manager, or someone who otherwise has significant responsibility for the control and management of your business.
You will be asked to enter basic information. Your account will be able to fulfil payment requests and receive money from personal and businesses registered in our system. There are no limits on the number of transactions you can do each day, each week, or each month. Per transaction, the limit is $10, 000.
To set up an Individual account, go to the main Settings menu, and click on the "Set up" link in the "Online payments" section. Then select Individual Account as the type, and continue entering basic information, including Legal First/Last Names, Phone Number, DOB, SSN, and Home Address. Once the information is provided, please double-check it and press the Submit & Next button to proceed.
In the second step, you will need to add a bank account. You can add a bank account using a Manual verification method. For Manual verification, you will need to add your Routing and Account numbers, as well as an Account name and Holder name:
You will be automatically sent micro-deposit(s) for your bank account verification. It usually takes 1-2 business days for the deposit(s) to appear on your bank statement.
Once you receive the deposit(s), go back to Online Payments settings and select the Verify option from the three-dots menu near the needed bank account to provide the amount of the micro-deposit(s) and complete the bank account verification.
There are two possible scenarios:
1 - Stripe sent one deposit to your bank account. This means that it will have 1 single deposit on your bank statement, and its description will contain a 6-digit descriptor code that starts with "SM". The code IS the descriptor (not with or without).
2 - Stripe sent two micro-deposits to your bank account. You will need to switch to the two micro-deposits option using the corresponding button and enter two amounts of these deposits.
Please note!
If you don't verify your bank account in 10 days after adding it, it will be automatically removed. You have 10 attempts to enter the correct micro-deposit amount(s) for verification.
Once the setup process is completed and information is submitted and verified, you will be able to accept payments from tenants and pay online.
Note that Stripe may request some additional information for verification purposes. In this case, you will see the "Provide information" link on the Settings tab. Click on it and you will see what needs to be added to the Online Payments account.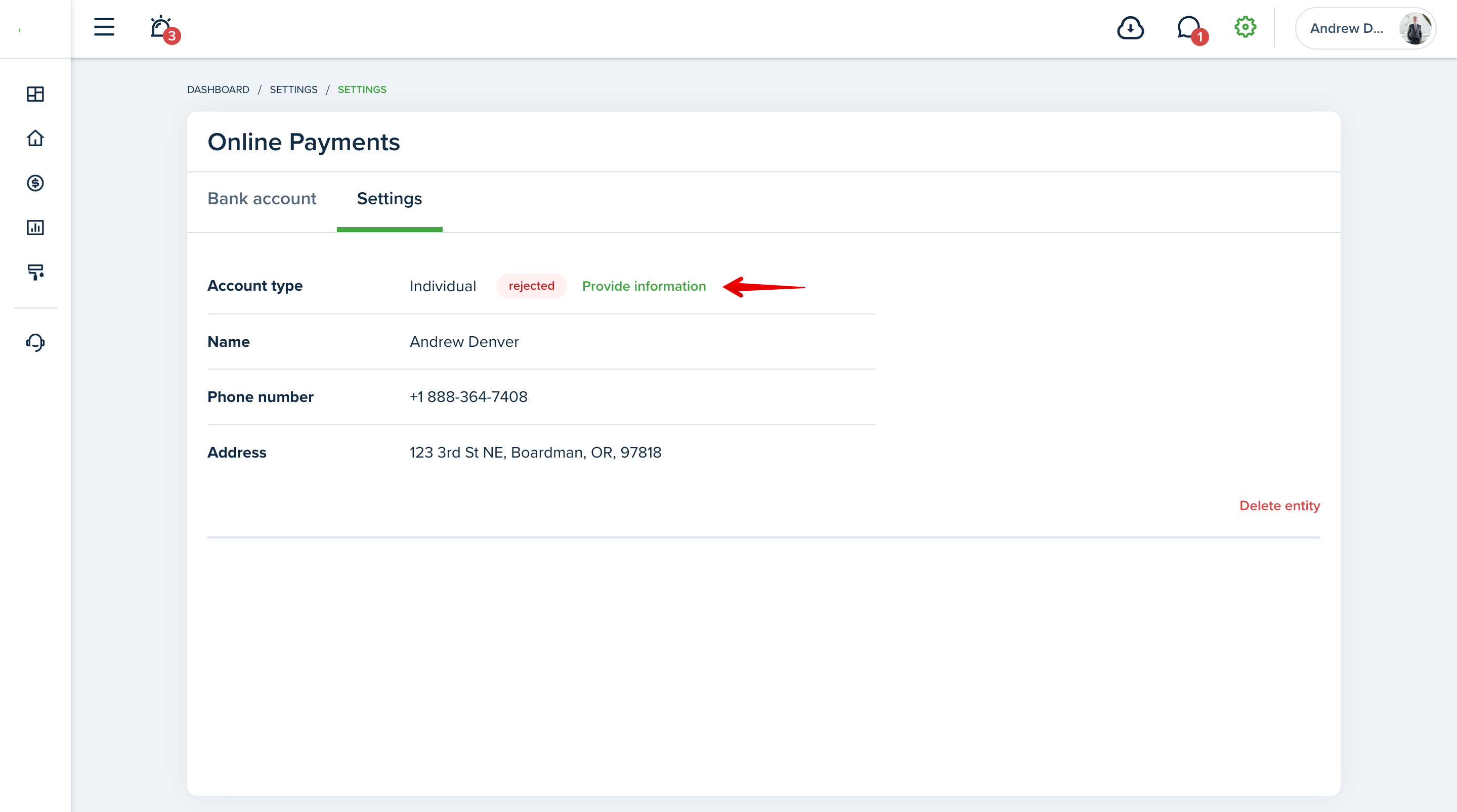 The links below might be useful:
How do I verify my account?
How do I set up a business Online Payments account? (Stripe Connect)


Last updated:
Mar. 2, 2023