Having trouble finding your authentication code?
Two-factor (2FA) or multi-factor authentication (MFA) is an additional security layer for your account, helping to address the vulnerabilities of a standard password-only approach.
If you have two-factor authentication enabled, you'll need access to your phone while signing in to your account. This way if your password is compromised or stolen, only you can sign in to your account.
During sign-in, run the authentication app you are using. Then choose your account email address from the list. In order to complete the procedure, enter the authentication code from the application.
Backup codes
If you lose your phone or delete your authentication app, you can use one of your backup codes to sign in to your account. Simply enter a backup code when asked for an Authentication Code.
Please Note!
Ten backup codes were sent to your email after you set up the 2FA for your account. You can find them again in your inbox.
You can use any one of these codes to log in to your account, but each code can only be used once.
You can also get a new set of codes if you have used all of the previous ones. To do so, go to your Settings (a gear icon in the upper right corner of the page), and click on the "Security" link in the "Account Settings" section. Click the "generate backup codes" link to generate a new list of codes and confirm the action:
You will receive the email with backup codes and also you will be able to download them right after the confirmation as well:
The email will contain your personal backup codes: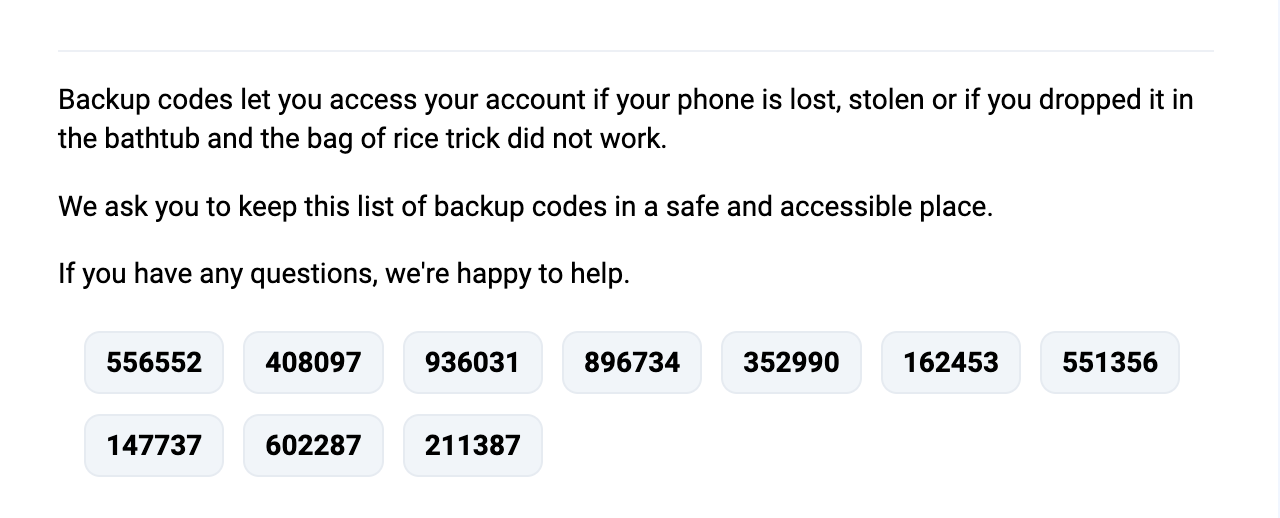 Please note!
Once the new codes are generated, the previous list becomes invalid.
Do not share your backup codes with anyone!
Last updated:
Mar. 2, 2023